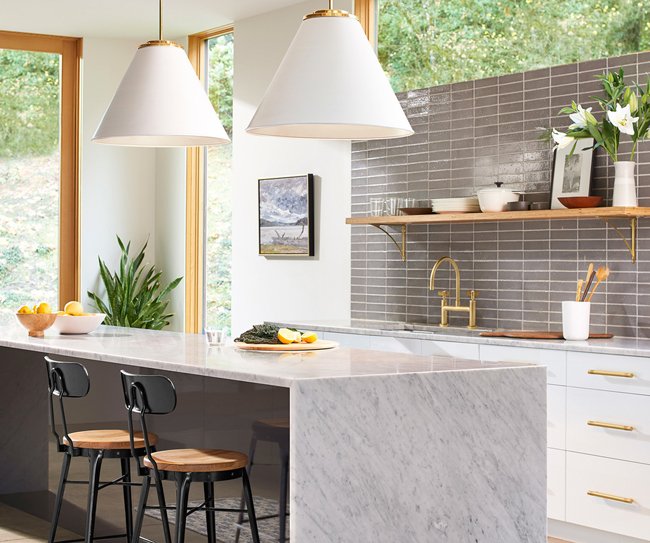 Stools offer casual, versatile seating for a variety of spaces in your home, from the built-in bar top to your kitchen table. When shopping for stools, it's important to consider the height of your surface and how many stools you will need. See our video and guide below for how to choose the right stool height and more.
Which stool height do you need?
There are three main types of stool heights: table, bar, and counter. Before you purchase stools, you'll need to measure the height of your surface. Most tables, counters, and bar tops have a standard height range, so you'll easily be able to find stools to suit any of these three heights.
Table stool height: Tabletop surfaces are typically 28 to 30 inches tall, so look for a table stool with a seat height around 18 inches from the floor.
Counter stool height: Countertops range from 36 to 39 inches, so you'll need a counter stool that ranges from 24 to 26 inches high.
Bar stool height: Bar tops are usually around 40 to 42 inches high, so opt for a bar stool about 28 to 30 inches tall.
All of these measurements are based on keeping around 9 to 13 inches between the seat and the underside of your surface, which will provide enough leg room for optimal comfort.
Adjustable Stools
If you need a stool that can work with multiple surface heights, consider one of our adjustable stool options. These designs are inspired by industrial stools and vintage drafting tables and chairs from the early 20th century. Whether you need an option for both table and counter height, or counter and bar stool height, shop our adjustable stool selection to get started.
How many stools do you need?
You'll want plenty of space between stools for people to easily sit and move around, so it's important to consider how many stools you can fit in the space. Because the length of your tabletop, counter, or bar may vary, calculate how many stools you'll need based on the amount of space recommended for spacing between each one.
The amount of space you should have between each stool depends on the overall diameter of the stool seat, and whether or not it has swivel functionality.
For stools 16 to 18 inches wide, leave at least 6 inches between each one and the either end of your bar or counter.

For stools 19 to 22 inches wide, or a smaller stool that swivels, maintain around 8 to 11 inches between each stool.
Which style are you looking for?
Once you've figured out what type of stool to buy (table, counter, or bar), and about how many you'll need, it's time to look at all the style options! Our stools come in a range of designs and styles to suit any interior.
Customizable Stools
We offer a fully customizable stool option, where you can choose between counter and bar height, finish colors, and wood seat finishes. The result is an industrial-inspired bar stool personalized for your space, made to last and endure everyday wear.
Antiques & Vintage Stools
Add character to your space with a vintage stool, or create an electic mix with a blend of new and vintage stools. Our vintage selection features stools of all sizes from a range of eras, making it easy to find exactly what you need. From metal industrial stools from 1935 to multicolored Mid-Century bar stools, shop our vintage stool selection to get started.
Backless vs. Full-Back Stools
Consider whether you would like a backless stool or a full back stool. Backless stools offer a cleaner look that's easy to tuck underneath your table or countertop. On the flip side, full-back stools provide more support and a comfortable feel, plus they're great for kids. We offer beautifully crafted backless and full-back stools at each height option, plus our customizable Cobb stool features an easily removable back for the best of both worlds.
Find the right seating option for your space with our versatile table stools, counter stools, and bar stools—shop our selection to get started.