Whether you're looking for a semi-flush light, pendant, or chandelier, you'll find a wide range of customizable ceiling light options to choose from. Consider each room in your home and what type of light it needs.
When looking at a fixture, the overall size and number of bulbs will determine how much light it will provide. Different types of lights will work better in certain spaces, depending on your ceiling height, illumination needs, and room functionality. See our breakdown of lighting for each type of space in your home to get started.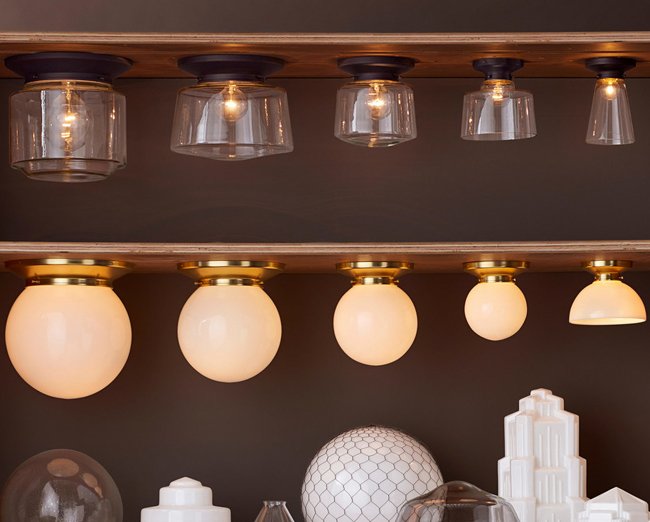 Ceiling Height
Before you consider which type of light should go in a certain room, your ceiling height will help you determine the best fit for your space. Standard ceiling heights for modern homes are around 8 or 9 feet, however many spaces feature 10- or 11-foot ceilings or a vault. Start by measuring the ceiling height throughout your home to best determine the type of lighting for each space.
Style Options
Once you've narrowed down your ceiling heights, it's important to consider the style and architectural aesthetic of your home. If you have an older house with lower ceilings at 7-8 feet, vintage-inspired flush mount lights might work best for many of your spaces.
For a new construction or more modern home, your ceiling heights may give you more flexibility for lighting. If you have taller than average ceilings, chandeliers or pendants in unexpected places can add plenty of personality, like a chandelier in the entryway or in a bedroom. Lofted spaces offer endless possibilities, from large rustic chandeliers to functional yet sleek ceiling fans. We offer a range of styles and aesthetics to choose from so you can find the right light for your home.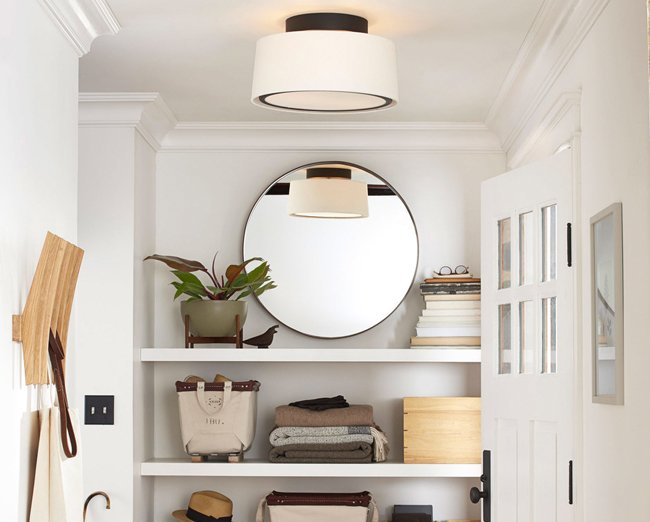 Entryway
The right entryway light will set the tone for the rest of your home. Since ceiling heights can vary widely for entryways, it's important to take into account the overall height and size of your space. For a vaulted entry, a chandelier or pendant will fill the space more and illuminate the room. For an entry with a standard ceiling height, a flush or semi-flush mount light will save on space.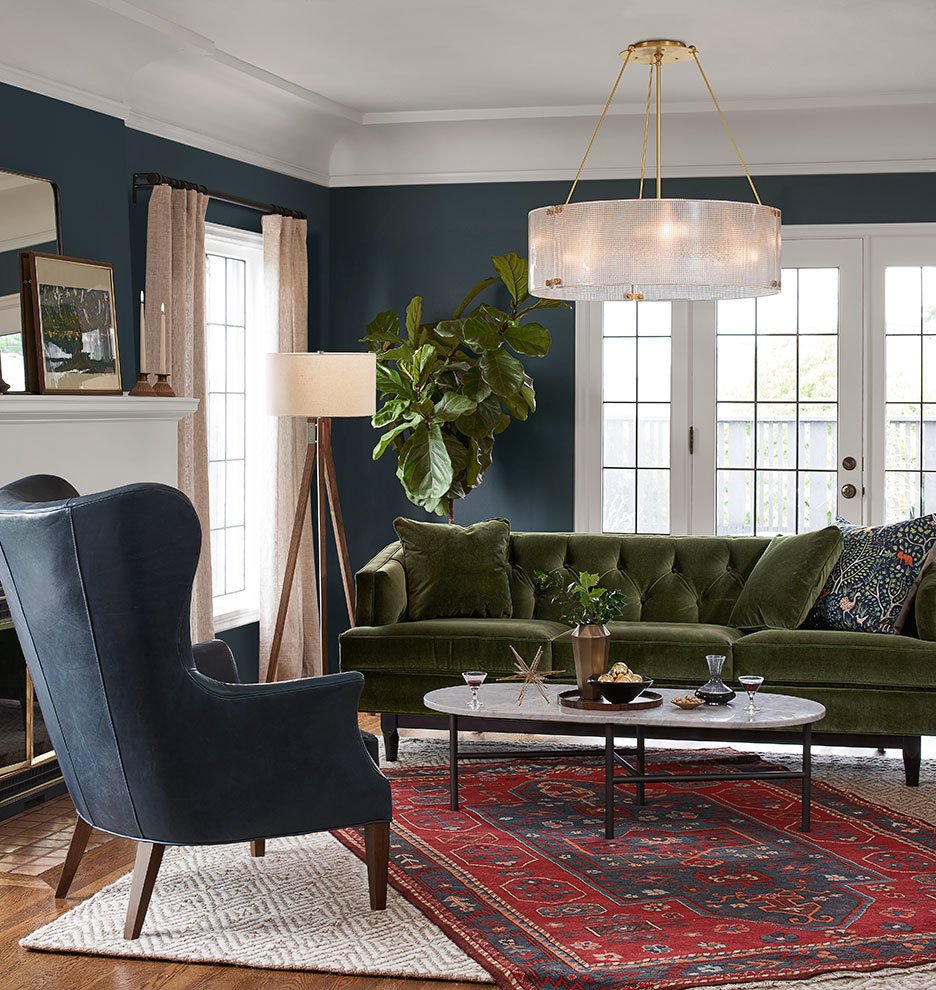 Living Room
For a living room or family room, you'll want the ceiling light to provide ample illumination for the whole space. This means choosing a flush or semi-flush light at the right fitter size to align with your room. The bigger the room, the bigger the fitter size, shade, and wattage required for the right amount of the light. In a vaulted living space, a ceiling fan may be more ideal than a flush-mount of semi-flush light. Our fans come in a range of modern styles, as well as incandascent and LED options, to suit your space.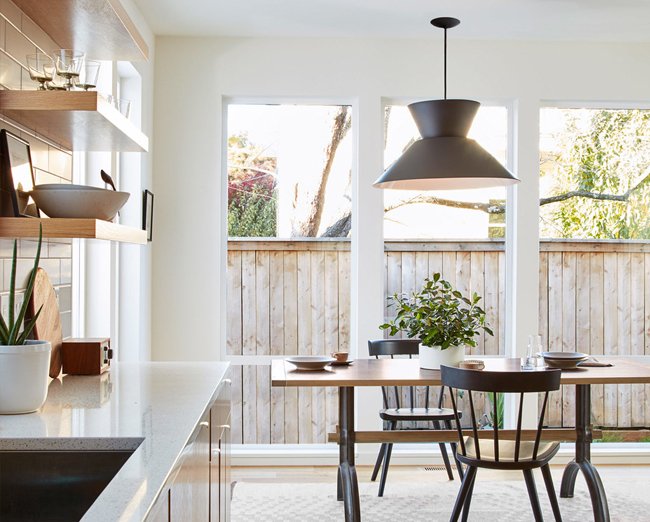 Dining Room
Dining rooms are the ideal opportunity for statement lighting, whether it's a cluster of modern pendants or an oversized chandelier. Make sure to take into account the height of your dining table and how that affects the space between the tabletop and the ceiling. In a smaller dining or breakfast nook, a single pendant or semi-flush light can provide style on a smaller scale. Consider your ceiling height and the rest of your space (like an open concept kitchen or formal dining room), and choose your lighting finish to align.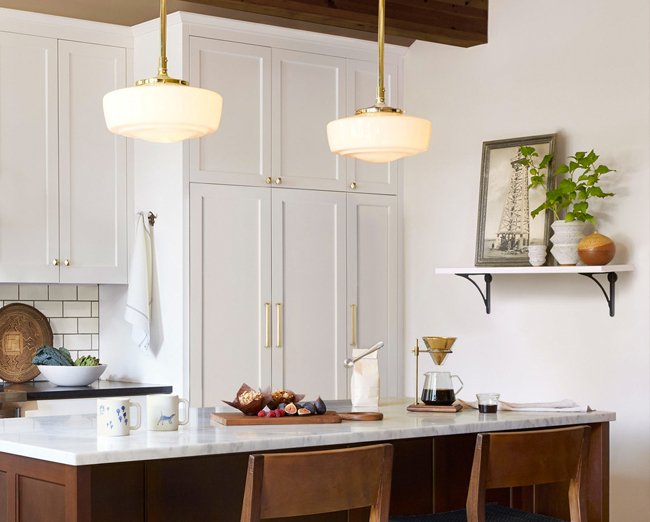 Kitchen
There are several places where you might need ceiling lighting in the kitchen, from task lighting over the kitchen sink to ambient light above the island. Depending on the size of your space, you may need several pendants above your kitchen island for ample light. For a kitchen sink or above a bar nook, a small semi-flush light makes a stylish alternative to standard recessed lighting.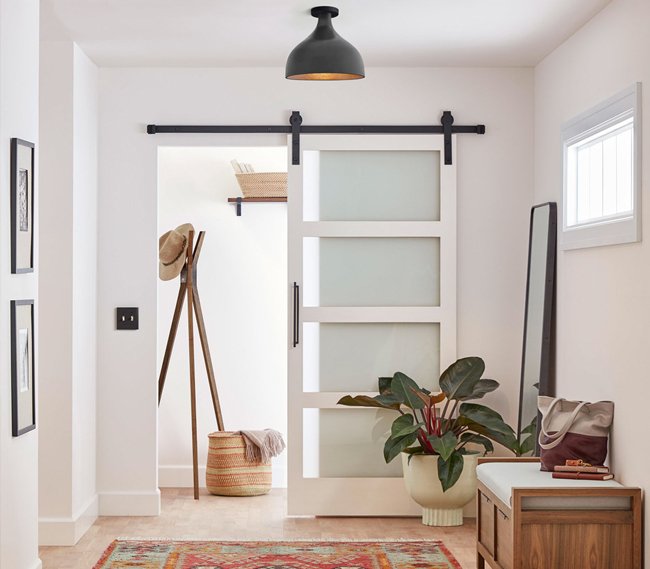 Hallway
For most hallways, it's best to stick to flush mount or semi-flush mount lighting. Opt for a style that aligns with the rest of your home's lighting, and choose a fixture finish that matches the door hardware throughout the hallway.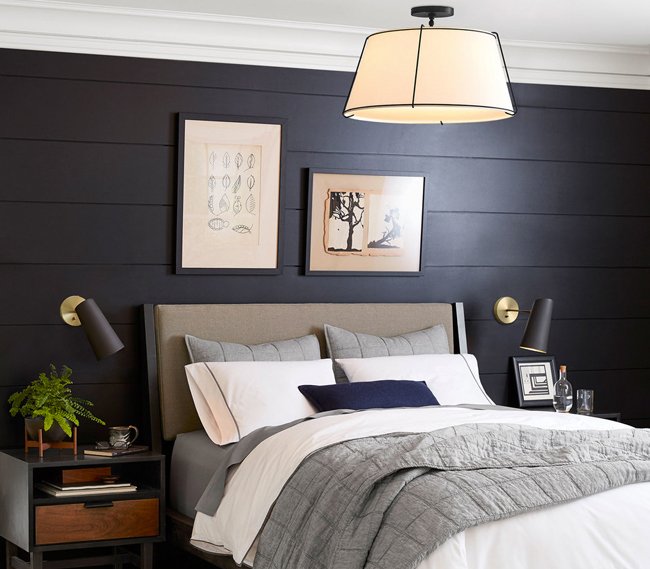 Bedroom
For a bedroom space, ceiling lighting should provide ample illumination for the whole room, while accent lighting like lamps and sconces provide more targeted task lighting. Make a statement with a chandelier, or opt for a classic flush-mount light in an updated style. For a bold look, try placing two small pendant lights from the ceiling on either side of the bed for accent lights.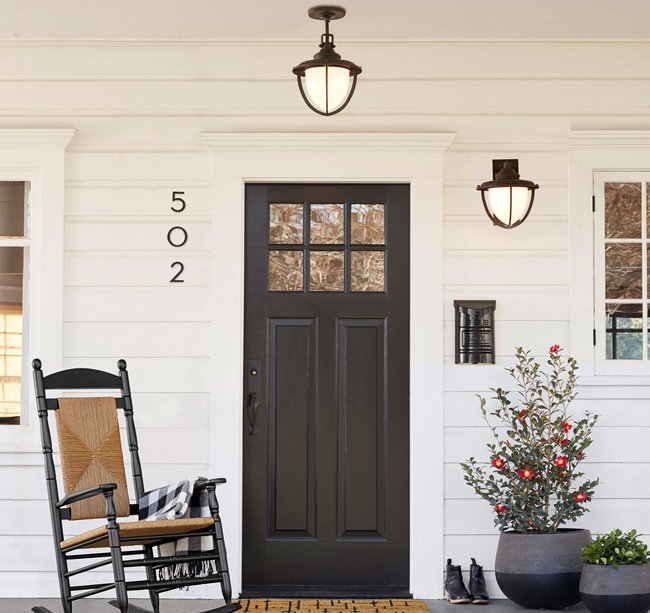 Porch
We offer a range of damp- and wet-rated fixtures made to withstand the outdoors. For a covered porch, a ceiling fan makes a great option for staying cool on warm days, complete with a light for evenings spent outdoors. For an industrial feel, consider a warehouse-style pendant or semi-flush light to add style to your porch or outdoor space.
Find out how to customize your light with our guided video below, and shop our selection of ceiling lights to get started.