Your kitchen is the heart of the home—a finely tuned, well-lit workshop for canning fruits and vegetables, prepping after-school snacks, and making meals. See our breakdown for how to choose kitchen lighting below so you can find the right light for this multipurpose space.
Start with function
First, consider what type of lighting you need in your kitchen space and where it will go. Does your kitchen have a galley-style layout or a large island in the middle? Pendants are great for above an island, while several semi-flush mount lights work best for galley-style kitchens.
Kitchen island lighting: Most islands act as a multipurpose space for prepping, cooking, and serving up meals. Depending on the size of your island, several pendants or small chandeliers above will provide ideal illumination. If your kitchen has additional ceiling lighting elsewhere, the island is a great spot for more directional task lighting with pendants; darker shades will direct light downward for more focused illumination.
For pendants, keep in mind the rule of threes. Three objects look balanced in larger areas when evenly spaced to fill the span, but with smaller islands, don't be afraid to cut that number down to two.
Above the kitchen sink: Another place to highlight with lighting is above the kitchen sink. Instead of the typical recessed light, elevate the area with a simple yet beautiful flush-mount light, like our Foster light with a clear glass shade.
Eat-in dining: If you have an eat-in dining area in your kitchen, this is the perfect spot for an elegant chandelier or statement pendant. We offer a range of lights and shade options to fit your space, whether it's a rectangular chandelier to suit a banquette-style setup or a modern pendant in a small dining nook. If your eat-in area is at the kitchen island, consider pendants that provide more ambient lighting with a glass or light linen shade.
Consider your style
Once you've decided where you need a light and what type is best, now it's best to think about the right style. Our customizable ceiling lights and sconces come in an array of finishes and shade options, so you can ensure a perfect match for your space.
Finish: Depending on the light fixture, the finish you choose will have a big impact on the style of the finished piece. Brass tones will add warmth to your space, while oil-rubbed bronze brings contrast and precision. Polished chrome and polished nickel are classic choices for a streamlined, contemporary look.
Shades: The shade style, size, and material you choose affects the light output. Many of our customizable fixtures come with a large variety of shade options, from vintage-inspired schoolhouse shades to sleek metal designs.
Clear glass: A clear glass shade will illuminate your entire space with bright ambient light. A glass shade pairs best with a filament bulb—we have 50+ styles to choose from.

Opal glass: Choose an opal glass shade for plenty of bright, 360-degree light with a more diffused glow than clear glass.

Metal: A metal shade focuses the light downward, making it an ideal option for targeted tasks or activities. If your kitchen has plenty of bright ambient light elsewhere, add pendants with metal shades above your island for more direct light above your cooktop or workspace.

Linen: Fabric linen shades are best for above an eat-in dining space, due to the moisture in the air closer to the sink or cooktop.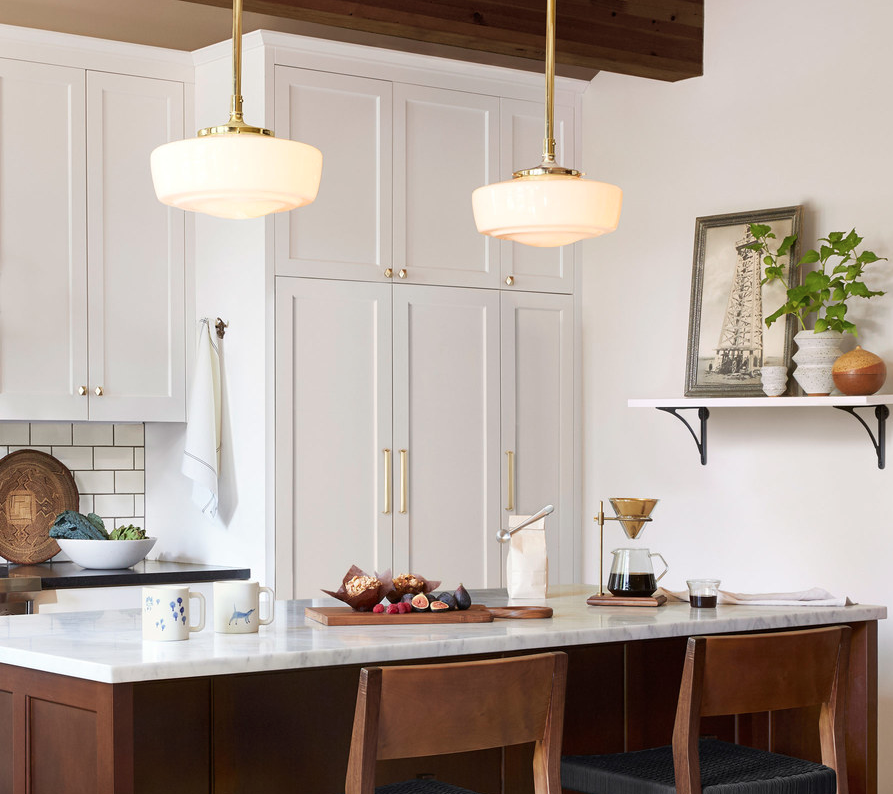 Find the right size & length
Our customizable lighting is assembled to order at our Portland, Oregon factory, which means you can create a one-of-a-kind light for your space. Once you've picked the fixture style, finish, and shade, it's important to ensure you're getting the right size and length.
Measurements: Consider how big the fixture will feel in your space once it has the shade you've selected. Whether you're going for an oversized look or a streamlined trio of pendants, measuring your space is key. Here are a few quick guidelines to get you started.
30-36 inches: Ideal distance from the island surface to bottom of the fixture's shade.
26-30 inches: Recommended distance between multiple pendants or lights.
12 inches: Amount of space/clearance from the edge of the island to the light fixture.
Depending on the size of your space and kitchen island, some adjustments might be necessary. Test it out by hanging a piece of paper from a string taped to the ceiling—this will help you visualize how much space the light will take up and the right distance it should be from the floor or your workspace.
See our guide for How to Customize Your Light Fixture to see how you can create the right combination for your space, and shop our customizable lighting selection to get started.