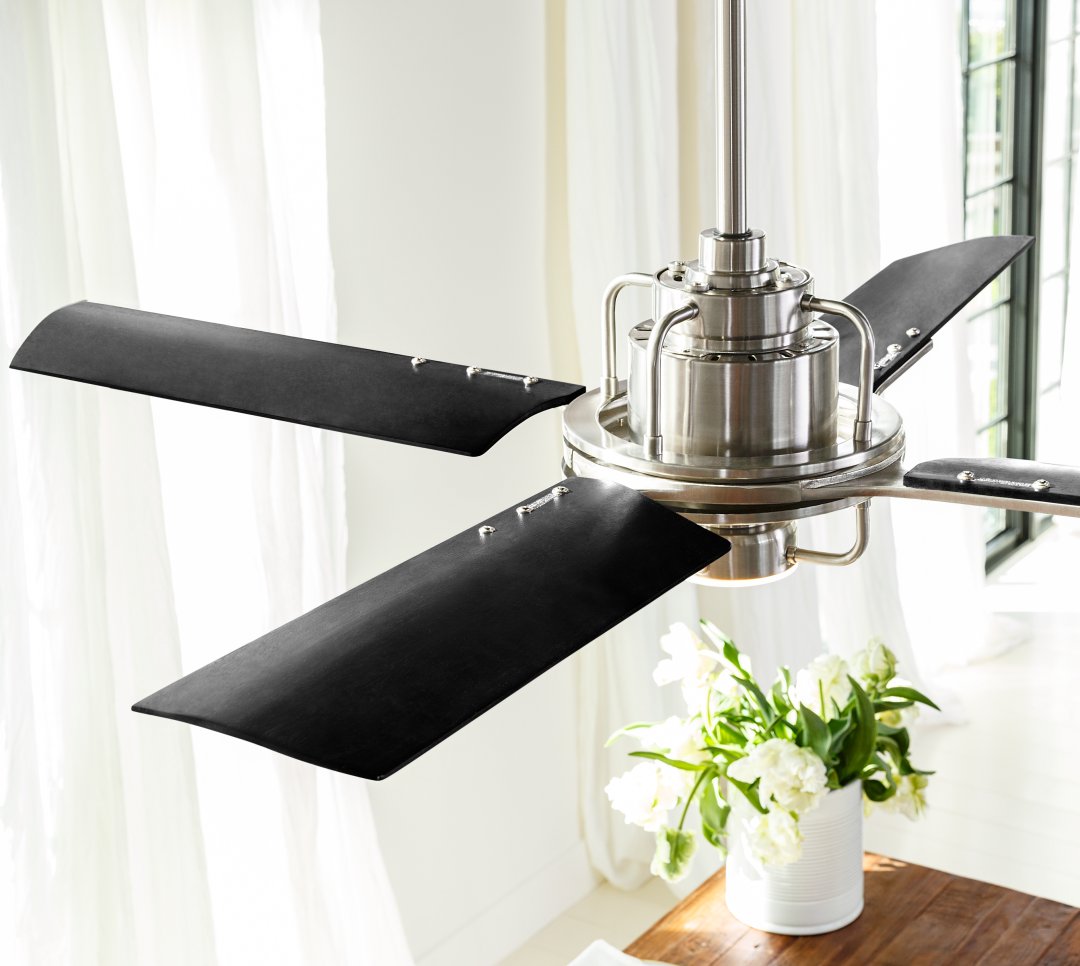 With a range of fan styles, blade options, and rod lengths to choose from, our high-quality fans offer endless options for every room. When deciding on the right fan for your space, there are several aspects to consider. Measure the height of your ceilings and consider the size and air flow of your space first; this will help you determine the blade span and the right size fan that will work best. See our top tips below for finding the perfect fan for your space.
Dual Direction Functionality
All of our fans feature dual direction functionality, so you can save money year-round by having your fan spin in the ideal direction each season.
Summer Fan Direction: Counterclockwise rotation as you look up creates a cool breeze by pushing air downward; the faster the speed, the cooler you will feel.
Winter Fan Direction: Clockwise rotation at a low speed creates an updraft, which pushes warm air trapped near the ceiling back down into the room; this circulates the warm air produced by your heating system throughout the space, keeping your house warmer with less energy consumption.
Blade Span
For spaces like living rooms, bedrooms, or large bathrooms, opt for a fan with a 52- to 62-inch blade span. For a great room or vaulted space, consider a fan with a blade span around 60 to 72 inches.
Ceiling Height
There should be at least a 7-foot distance between the floor and the fan blades. For a vaulted ceiling or anything above 9 feet, we recommend adding a longer down rod to your fan. Choose from our assortment of down rod lengths to match your ceiling height and fan finish.
Down Rod Length
12" - Ideal for 9' ceilings
18" - Ideal for 10' ceilings
24" - Ideal for 11' ceilings
36" - Ideal for 12' ceilings
48" - Ideal for 13' ceilings
60" - Ideal for 14' ceilings
72" - Ideal for 15' or higher
Ceiling Slope
For vaulted ceilings with a slope up to 52 degrees, use a hanger ball adapter so your fan hangs straight. Our convenient Ceiling Fan Adapter provides the perfect hanging solution for vaulted ceilings.
Air Flow
The CFM rate measures the volume of air moved by a fan. For larger spaces, you'll want a fan that offers at least 3,000 CFM air flow. All of our fans feature high air flow at a low wattage for maximum efficiency.
Shop our versatile selection of ceiling fans to find the perfect option for your space!