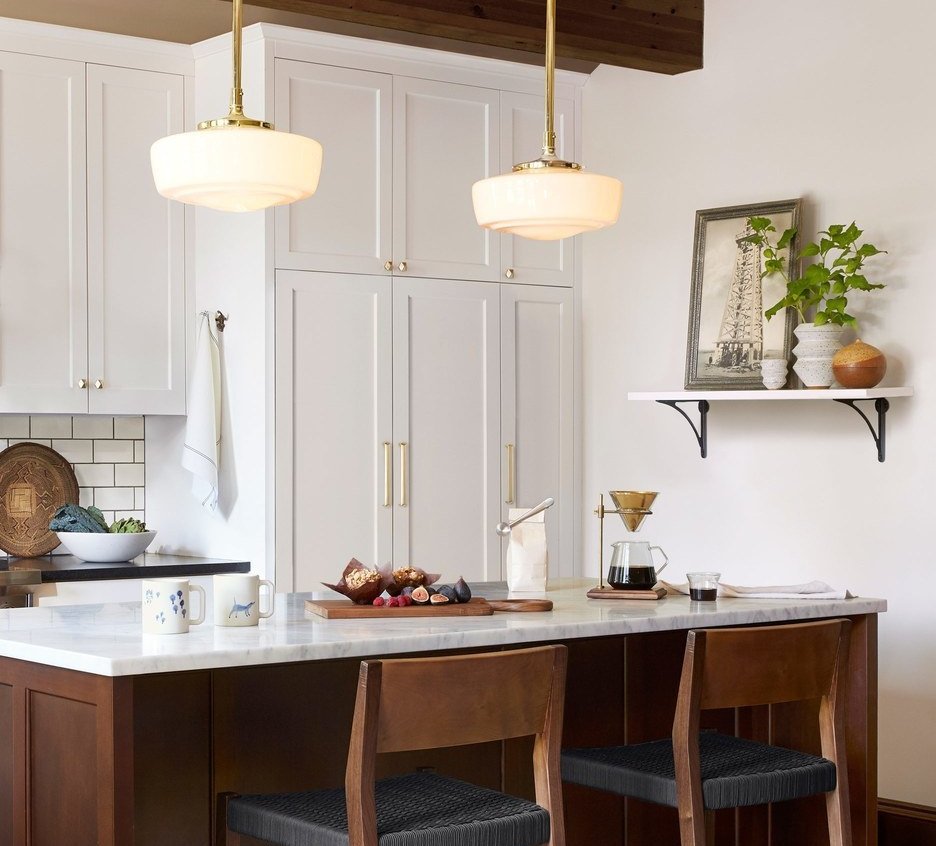 Whether you're planning a lighting update or a whole-house renovation, the list of measurements and specifications for everything can be endless. The old adage "measure twice, cut once" applies to more than carpentry projects; before you order new light fixtures or hardware, you can ensure a seamless installation by having all the measurements ready when you purchase. See our guide below for all the lighting and hardware measurements you need!
Lighting: Ceiling Height
First things first, knowing your ceiling height is critical when choosing lighting. This measurement will tell you how large your fixture can be and how long it can be. Especially for lower ceilings, you'll need to carefully consider the length of your fixture and always maintain 7-feet of clearance between the floor and the bottom of your ceiling fixture.
Standard ceilings are usually between 8-9 feet in height, however some homes can go up to 12 feet or have vaulted ceilings. Lower fixtures will create more intimacy to your space; Higher fixtures are less noticeable, however taller ceilings may also require more height from the floor for visual balance.
Existing Fixtures
Do you have an existing light fixture that you're replacing? Often, using an existing light will provide a nice visual reference point. Consider how low it hangs currently and whether you're comfortable with it.
Room Elements
Don't forget about other elements or features of your room that could affect the light fixture. If it's in a dining room, consider your dining table—see our Dining Room Lighting Guide for more specifics. Also look at the windows in your space and consider how the light placement will affect the view. If there are any doors or cabinets nearby, make sure you be able to open them easily without hitting the light.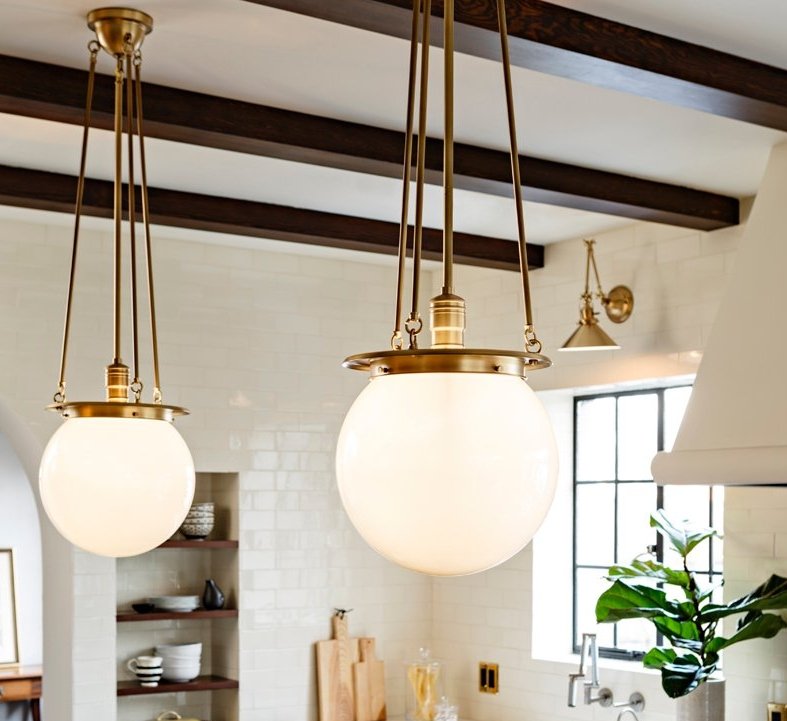 Quick Lighting Tips
Dining Room Lighting: Dining room tables are typically 31 inches high. In most cases, dining room lighting should hang 35 inches above the table, or 66 to 76 inches from the floor.
Kitchen Island and Counter Lighting: Work spaces need focused task lighting. Hang pendant lights around 72 inches from the floor, or 28 to 34 inches from your countertop surface.
Game Room/Pool Table Lighting: Regulation pool tables are built to a height of 29 1/4 to 31 inches. Typical lights above pool tables are about 60 to 62 inches from the floor (regulations often impose a strict 31 inches from the tabletop).
See our guide to Lighting for Your Whole House for more ideas on light options for each space.
Hardware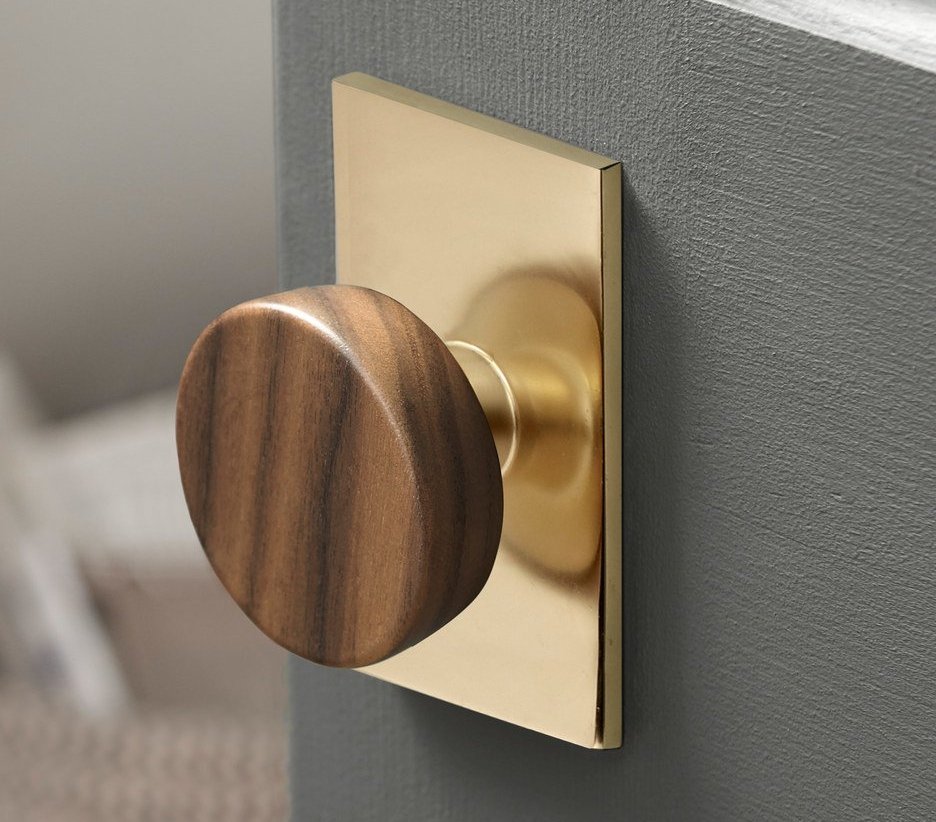 Door Hardware: Backset
Measuring your door's backset is the key to ensuring your door hardware fits correctly. The backset is the distance from the door's edge to the center of the hole for your door knob. Measuring this distance first will help you make sure you choose the right type of door set. Another factor to take into account, specifically for exterior door sets, is whether your door requires a tubelatch or mortise-style lock.
Tubelatch: This is the modern standard for today's locking doors, both exterior and interior. All tubelatch options for our interior door sets have a standard 2 3/8-inch backset. Our latch sets also include a 3 1/2 inh spindle for 1 3/8-inch thick doors.
Mortise: Older doors use mortise cases instead, which feature larger square locking mechanisms installed into a deep pocket in the door. If you're installing a new custom door, a mortise set will require special drilling and installation. Our mortise sets come in either 2 1/2 or 2 3/4-inch backsets.
Design Note: Before replacing an existing lock or latch with a new one, check if the backset measurements are the same. If they are different, you'll need to retrofit your door for the new hardware. This can be a difficult task, and may be best left to an experienced contractor.
Cabinet Hardware: Center-to-Center
Start by considering how many knobs or drawer pulls you will need. If you're swapping out existing hardware, will you be replacing knobs with new knobs, or switching to drawer pulls? This will affect how you measure for your new piece (and keep in mind what areas may need to be patched up!).
Once you've decided on your cabinet hardware, check the dimensions of the piece and confirm it will work with your cabinetry. For knobs, this mostly involves evaluating the overall size and width of the knob in relation to your cabinetry style and size. For drawer pulls, always check the center-to-center measurement—this measures the distance from the center of one screw hole to the center of the second one, which is especially key for drawer pulls with a backplate that hides the installation.
Drapery Hardware: Window Size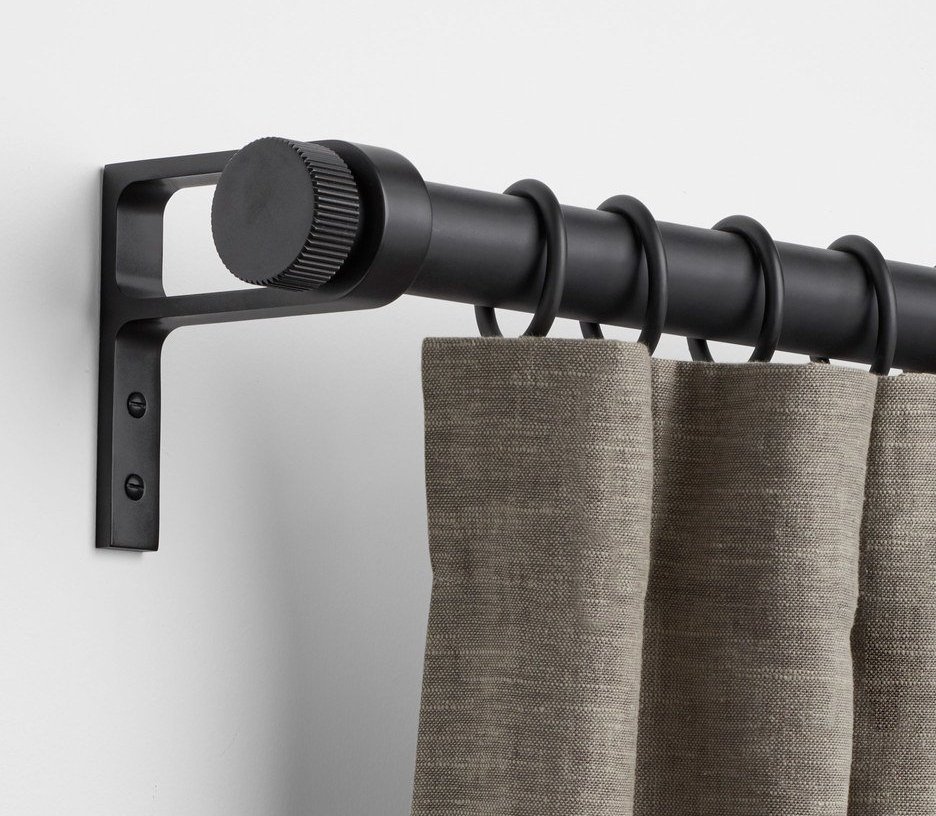 Our drapery rods come in both adjustable and custom widths, allowing you to create the perfect window treatment solution for your space.
Before you order new drapery rods or fabric panels, it's important to measure your window. Take into account the width, which will help determine the rod size you need.
Height: For the right drapery panel size, measure from the floor to the height you would prefer the drapery rod—typically about four to six inches above the window casing. Hanging your drapery rod higher helps create the illusion of higher ceilings.
Width: Extend the rod around three to six inches wider than the window frame; this makes the window feel bigger and allows for more light to flow in the room. For our inside-mounts or concealed cafe sets, measure to the nears 1/8 inch inside the interior window casing. Once you're ready to order, measure to the nearest 1/8 inch from finial to finial.
From customized lighting to handcrafted hardware, we offer everything you need for your next home project. Shop our versatile lighting and hardware selection to get started.