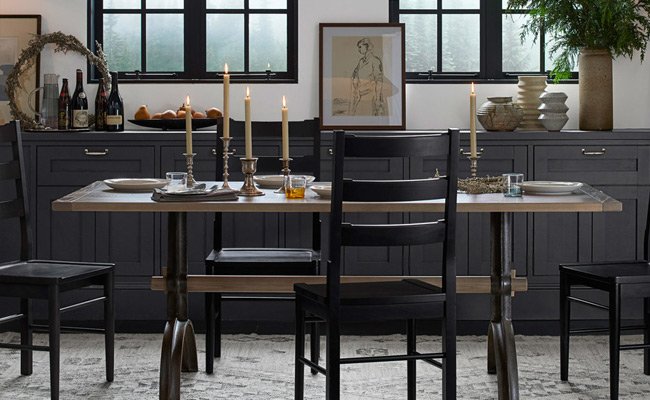 Inspired by the history and elegance of this classic metal, we created a collection of heirloom-quality pewter tabletop accents and hardware. Historically, pewter was often a stand-in for silver tableware. Today, it's a handcrafted tin-alloy metal with a silver-gray finish—perfect for bringing timeless character to your home.
Wondering how to work this classic material into a modern or traditional space? See our tips below for how to decorate with pewter.
1. Mix in simple tabletop accents
Simple accents with minimal details will balance out the character and rustic patina of pewter. Try pairing our
Solid Pewter Tray
with
classic glassware
and solid table linens. For dinnerware, plates and bowls with basic, clean lines will provide a crisp backdrop for pewter trays and cheese knives at the center of the table.
2. Pair with streamlined furniture for a modern feel
We also expanded several of our hardware finish collections to include pewter. Our new designs combine simple, streamlined silhouettes with pewter's classic texture and finish, making them an ideal choice for modern furniture. Add texture and character to a sleek sideboard or cabinet with our
Pewter Vernon drawer pull.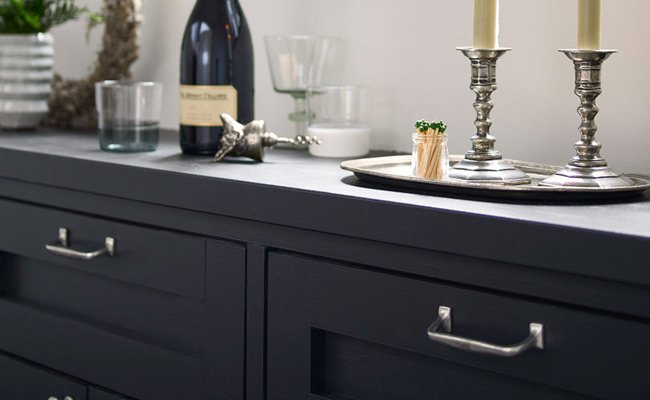 3. Add in vintage elements for a traditional vibe
For a more traditional space, pair our handcrafted pewter accents with
antique early American furniture
. The combination of quality craftsmanship will create a look that's inviting and timeless. Delicately turned woodwork and simple yet flowing silhouettes feel right at home with vintage-inspired pewter candlesticks and trays.
Pewter Craftsmanship
Our Pewter collection is made in Italy using ancient craftsmanship techniques. Each one is cast from metal, then polished and antiqued by hand for a classic pewter finish. The small irregularities in each piece are a sign of the handcrafted nature, offering a timeless mix of rustic details with modern appeal.
Collaboration with O&G Studio
To round out our new collection, we worked with O&G Studio on a set of pewter cheese knives and a server. The elegant informality of pewter resonated with Jonathan Glatt and Sara Ossana of O&G Studio. They chose pewter to both highlight their unique designs and showcase a medium not many people think to use. From rounded trays and detailed candlesticks to whimsical cheese knives from O&G Studio, pewter brings time-honored craftsmanship and beauty to the table.