Every Rejuvenation light has a story. It begins with inspiration, design, materials, and engineering. The story progresses when the light is ordered, according to your unique specifications, triggering assembly, wiring, and packaging in our Portland factory. Once the light is shipped and installed in your home, the story continues as you and your family enjoy the lights for years to come.
When Portland-based health and wellness expert Alison Wu reached out to us about her kitchen remodel, we knew the time was right to capture this story from start to finish. She chose two sizes of Hazel pendants from our design collaboration with Pigeon Toe Ceramics, a company also based in Portland. Here's the story below of the Hazel pendant, from the Pigeon Toe studio to our factory, then finally in Alison's newly updated kitchen.
On the left, Lisa Jones, the designer and founder of Pigeon Toe, casts one of the Hazel pendants by pouring clay into a mold. Our collection of Pigeon Toe lights feature an array of beautifully shaped ceramic shades, inspired by organic silhouettes and natural tones.
Once the ceramic pendant shade comes out of the mold, Lisa trims the base to create a seamless edge.
The ceramic shades are fired in a kiln, then further refined on a potter's wheel for sanding and finishing to perfect every detail. After the series of handcrafted steps up to this point, each shade is then carefully checked by the team to ensure quality and craftsmanship.
The shades are cleaned up and glazed, then they're ready to be shipped across town to our factory, where our team takes over.
The Pigeon Toe collection features pendants with a lower main shade, along with a smaller upper shade—which comes in four different color options. Customize your light by mixing-and-matching the upper and lower shade choices. Opt for a matching hue for a seamless look, or choose contrasting tones for a dynamic feel.
Above, our factory team works on wiring one of the Matchstick Tube Hazel pendants. Each light is made-to-order at our factory according to your specifications. Choose the right pendant length, shade colors, and socket type to suit your space.
The Hazel pendants that health and wellness expert Alison Wu ordered went through the exact same journey to get to her home in North Portland. While she was remodeling her kitchen, she kept her 174,000 followers updated about the progress of the space.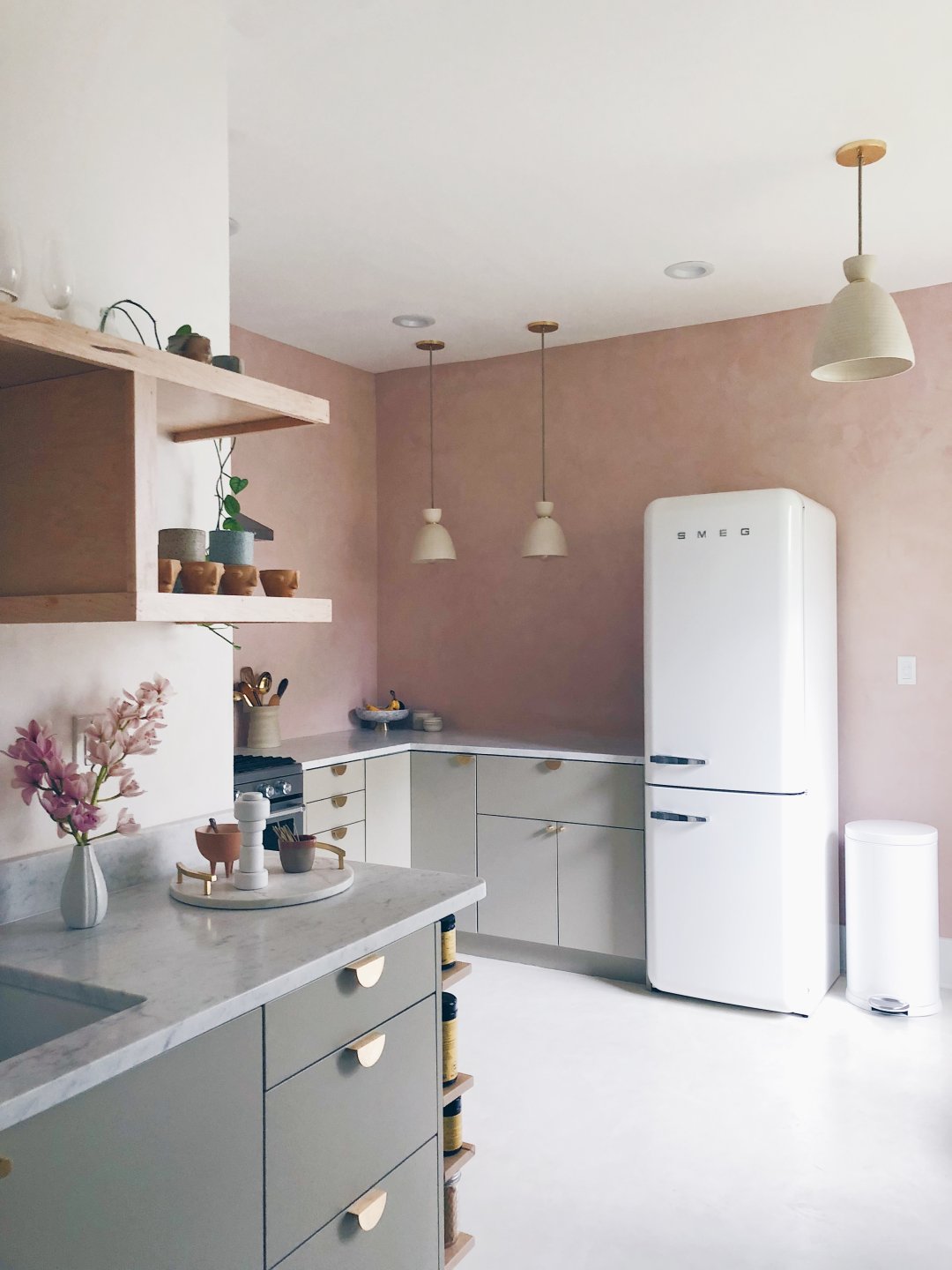 Finally, once the renovation was completed and the lights and finishing touches were installed. To say we were pleased with the results is an understatement!
"
All of the amazing pendant lighting came from Rejuvenation. The pendants I chose are a collaboration with Portland-based ceramics studio, Pigeon Toe. During this whole process, I got to go tour Pigeon Toe's studio and see how the ceramic pendants are made. I love supporting two Portland-based brands, and Pigeon Toe is woman-owned and operated. At one point, I felt like we went overboard with the lighting, as we also did recessed cans and under cabinet lighting, but now that I'm in the space working, I'm SO glad we went with all these lighting options. The pendants really allow for mood lighting, while the cans and under cabinet lighting is great for working. Since our kitchen is north facing and there's only one window, having good lighting really makes a massive difference.
- Alison, on her kitchen lighting
src="https://d28m5bx785ox17.cloudfront.net/v1/img/Gcftk2vAwEu-JLjqjuvGz_RBDKW1ZHMtzDWzgQ09gws=/d/l" class="curalate-widget-image" style="position: relative !important; z-index: 0 !important; width: 100%; border-radius: 3px;"/>
Thanks to Alison Wu for the last two photos! Read her whole post about the Wu Haus kitchen remodel here and shop the entire Pigeon Toe collection here.