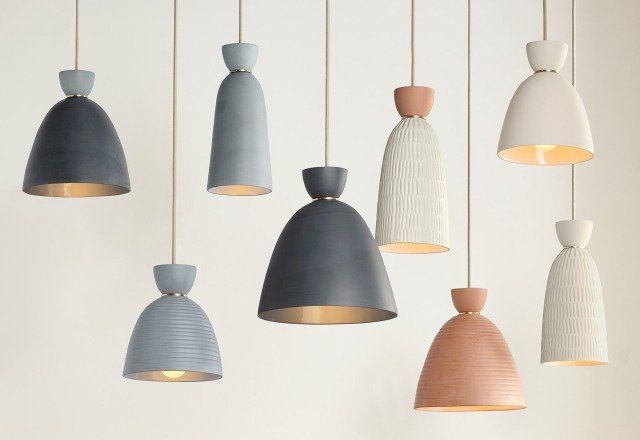 Pigeon Toe, owned by ceramicist and artist Lisa Jones, is up in the heart of North Portland, Oregon. Jones works to create modern heirlooms in categories from tableware to lighting. We were lucky enough to partner with her to create the Hazel collection of customizable ceramic pendants.
---
After working together to perfect each hand thrown shape, we partnered with a Portland slip-casting studio to create molds.
Slip is hand-mixed—6 gallons of it—and poured into a plaster mold. After a half hour, the slip is poured out and leaves behind the clay that forms the walls of the shade. 12–24 hours later, the mold is disassembled and the shade is removed. Jones uses a scalpel to cut away any spare elements and leaves the shade to dry.
After their first firing, shades are inspected for flaws and sanded. They're then glazed and loaded into the kiln for their final firing.
Once completed, the shades are packed up and sent over to our Northwest Portland factory for assembly.
At the factory, brass connector rings get hand polished and ready to be paired with any combination of ceramic tops and bottoms.
With four shades and three shape options, the Hazel pendant collection is as customizable as it is captivating. How will you customize yours?