Whether you live in a modern loft or a traditional four-square, the dining room helps define the aesthetic for your entire home. Mixing materials, furniture styles, and lighting with your existing décor is an art form, but ultimately the result is a space that truly reflects your lifestyle and home. Our fall collection focuses on mixed materials with timeless appeal, creating spaces that draw inspiration from many sources for a unique, seamless look that transcends time.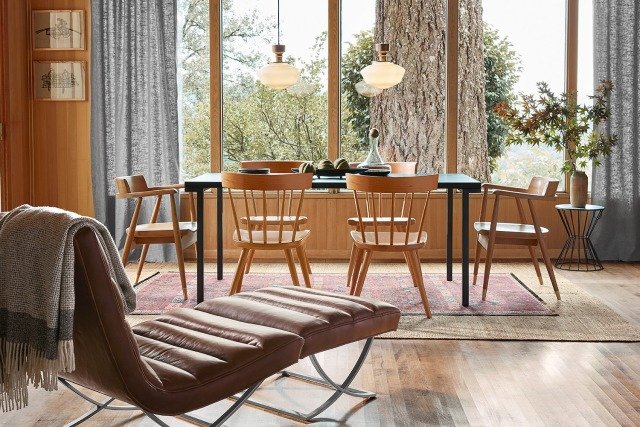 1. Northwest Modern
With a delicate balance of light and dark, our Northwest Modern dining space draws inspiration from classic mid-century designs and Scandinavian simplicity. Light, airy furniture lets the natural beauty of the space shine through.
Light wood chairs blend effortlessly with a clean-lined dark table, which helps ground the space. Meanwhile, simple silhouettes allow light to permeate throughout the room, while a curated mix of finishes in neutral tones bring understated warmth.
The key to this look? Mix and match materials at will, but choose items with a continuing thread of understated simplicity. When it comes to accents, look toward honest designs with simple texture. Our linen and cotton drapes offer the ideal mix of high-quality materials with a versatile aesthetic. On the floor, layered rugs add depth and a hint of color while defining the space.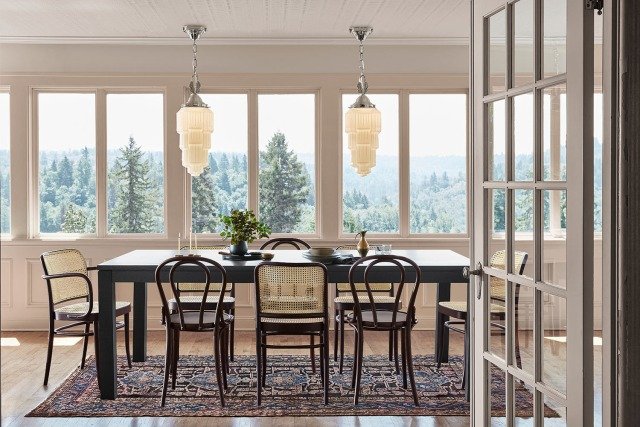 2. Art Deco Elegance
Inspired by the grandeur of the 1920s, our Art Deco dining room offers a perfect example of how to work a statement piece into your space. A dramatic contrast of tones highlights our skyscraper-inspired Hollywood pendant—the dark table, chairs, and rug add subtle drama, while providing the perfect backdrop for bold lighting.
The key to this look? For seating, a mix of two different chair designs with a similar color scheme will add just the right amount of dynamic style. Update your existing dining setup by swapping in a few of our bentwood chairs paired with one or two pendants overhead, depending on the size of your table.
Small details bring the room together to align with the Hollywood pendant, from the light rattan seat of our Ton caned armchair to the subtle cream tones in the area rug.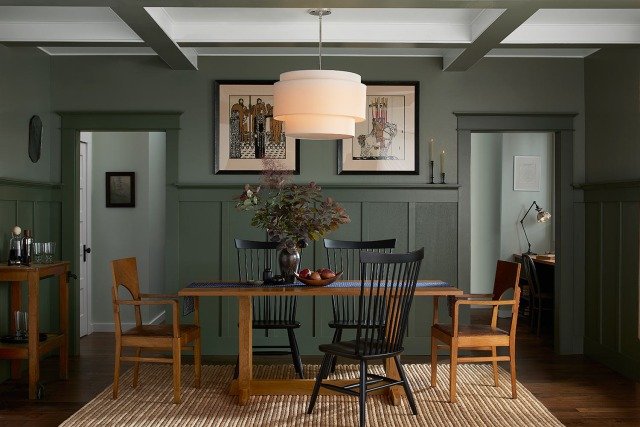 3. Classic Arts & Crafts
Defined by time-honored craftsmanship and enduring quality, an Arts & Crafts space offers the ultimate in flexibility. Our interpretation features a blend of durable yet graceful furniture, like the glossy black Highback chair paired with our warm wood Gilson dining table.
The key to this look? Curated flourishes that add personality and authenticity to the space, without overshadowing the simple beauty of functional furniture. Try pairing classic furniture with an updated light fixture that brightens the space, like an oversized drum pendant. For the finishing touch, a durable, two-tone jute rug brings a balance of texture.
Once you've decided on style, find out what size dining table to get for your space with our video below.
Shop our handcrafted furniture and heirloom-quality lighting to create your own perfectly curated dining space.